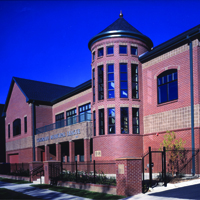 Major policies of CML are established by the membership at the annual business meeting and by the CML Executive Board and various committees. Daily operations of the League are carried out by a 13-member staff. CML also has a variety of professional sections and 14 regional districts that give CML depth and breadth in its understanding of municipal needs. Learn more in the CML Annual Report.
Mission Statement
Founded in 1923, the Colorado Municipal League is a nonprofit, nonpartisan organization providing services and resources to assist municipal officials in managing their governments and serving the cities and towns of Colorado.
Vision Statement
Empowered Cities and Towns, United for a Strong Colorado.
Strategic Plan
The CML Executive Board and staff have outlined the following goals to help our members in 2019.
ADVOCACY
CML will empower members to be leaders on municipal issues and advocate for CML policies and positions.
CML will increase the role and visibility of the Policy Committee.
CML lobbyists will be visible and accessible to members.
CML will defend and advance municipal interests in the courts.
MEMBER ENGAGEMENT
CML will increase quality opportunities for meaningful member interactions with CML and each other.
CML will expand the use of social media platforms as a communication tool.
TRAINING
CML will provide a diverse range of updated and innovative training and outreach opportunities to meet the needs of CML members.
RESEARCH & INFORMATION
CML will be the leading statewide information resource for municipalities.
CML will improve information and service delivery.
LEADERSHIP
The CML Executive Board will be active leaders who will interact and inspire participation in CML and develop future leaders.