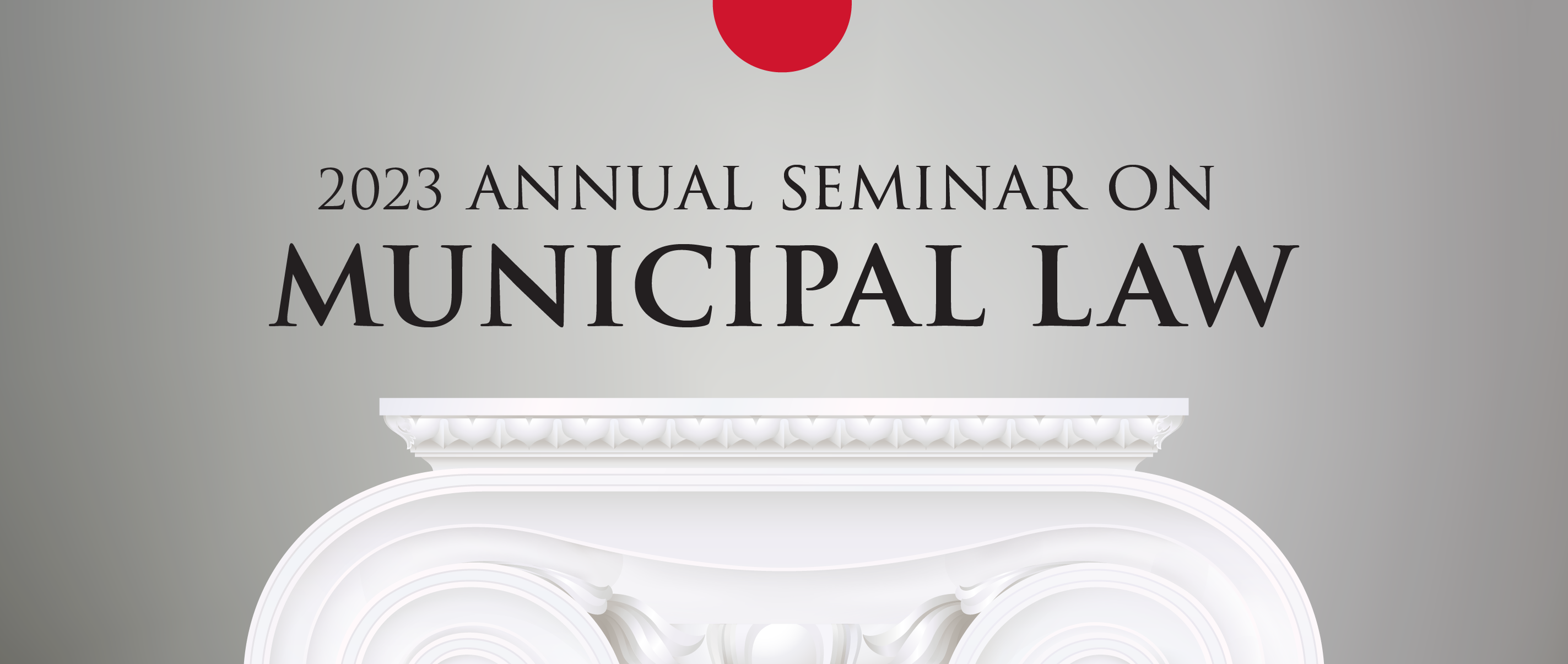 Annual Seminar on Municipal Law
October 6-7, 2023 | Mt. Crested Butte

CML's Annual Seminar on Municipal Law provides expert Colorado-specific information that is directly relevant to the daily practice of municipal attorneys in the state, as well as opportunities to network with peers.
Meeting Location: Lodge at Mountaineer Square
Lodging: Grand Lodge and Elevation Hotel & Spa for $135 per night plus applicable taxes.
Please click on the session to view the PP presentation and any handouts.
Agenda

Friday, October 6
8 a.m. | Registration, continental breakfast & roundtable discussions
CML is hosting roundtable discussions during breakfast on Friday morning (continuing on Saturday morning for any follow-up).
Roundtable discussion: Current LEIA Issues
The Law Enforcement Integrity Act (SB20-217) remains a novel statute as cases work their way through district courts, with little appellate guidance. This conversation will invite attorneys to share their views on LEIA's controversial or confusing provisions based on three years of implementation.
Roundtable discussion: Housing Revenue from Real Estate Transfers
Before TABOR prohibited their adoption, 12 Colorado Municipalities adopted Real Estate Transfer Taxes that have contributed to housing solutions in those communities. As municipalities seek to deliver affordable housing projects, this conversation will focus on creative solutions for establishing dedicated revenue streams, including opportunities to establish a real estate transfer tax by constitutional amendment or a real estate transfer fee by statute or local ordinance.
9 - 10:30 a.m. | Annual Update on Municipal Law
This session will review Colorado, Tenth Circuit, and U.S. Supreme Court appellate decisions of interest to Colorado municipal attorneys, reported between October 1, 2022, and October 1, 2023. Areas of focus include Constitutional issues, employment law, municipal liability and government immunity, law enforcement, campaigns and elections, sunshine laws, zoning and land use, and tax.
Speaker:
Robert Sheesley, General Counsel, CML

10:30 - 10:45 a.m. | Break
10:45 - 11:45 a.m. | To Vote or Not to Vote: Should that be a Question Submitted to the Electorate?
In the summer of 2022, Steamboat passed an ordinance asking its voters whether the City should tax short term rentals at a rate of 9% and dedicate those funds to affordable housing projects. In short order, a local group of property managers and realtors submitted petitions to recall three City Council members and call a referendum on the tax ballot question. The City rejected the referendum petition and prevailed at district court in a case of first impression. This session explores the City's rejection of a referendum on the tax ballot question and the ensuing case of first impression.
Speakers:
Dan Foote, City Attorney, City of Steamboat Springs
Jennifer Bock, Assistant City Attorney, City of Steamboat Springs
Noon -1:15 p.m. | Luncheon: Bob's Rules of Order
An efficient and well-run public meeting will promote fairness, facilitate the decision-making process and, importantly, build public confidence in local government. Conversely, a poorly run and dysfunctional meeting leads citizens to believe that all aspects of the government are poorly run and dysfunctional. Parliamentary or procedural rules of order are an essential component to an efficient public meeting. Although many local governments turn to Robert's Rules of Order for meeting procedures, these rules largely fail to serve the special needs of the public meeting. Governments should consider using a more simplified and tailored set of procedural rules. Bob's Rules of Order, available through the Colorado Municipal League, may present a reasonable alternative to Robert's Rules when pursuing the goals of running an efficient and fair meeting and maintaining confidence in government.
Speaker:
Robert Widner, Attorney, Widner & Juran LLP
1:30 - 2:45 p.m. | Legal Stakes in Urban Camping
Urban camping challenges municipalities to address public health and safety risks in a humane and lawful manner, within the limitations of the municipality's resources and capacity. This session will explore the constitutional and statutory limitations on municipal regulations of urban camping and interacting with unhoused persons on municipal property.
Speakers:
Reid Betzing, City Attorney, City of Littleton
Andrew Trevino, Assistant City Attorney, City of Loveland
2:45 - 3:00 p.m. | Break
3 - 4:15 p.m. | Bright Light of Public Scrutiny - Sunshine Laws and Cases to Know
Colorado Sunshine Laws assist public transparency by regulating open meetings and disclosure of public documents. As municipal lawyers, we are often expected to be subject matter experts on the topic. This interactive presentation will highlight and explore some of the essential cases to know on the Open Meetings Law ("OML"); Colorado Open Records Act ("CORA"); and Colorado Criminal Justice Records Act ("CCJRA").

Speakers:

Evin King, Michow, Guckenberger McAskin LLPJoshua Myers, Michow Guckenberger McAskin LLP
4:30 p.m. | Welcome Reception
Sponsored by:
Supreme Sponsors: Michow Guckenberger McAskin LLP and Widner Juran LLP
Amicus Sponsors: Butler Snow LLP and Parker, Wilson & Carberry, P.C.
Saturday, October 7
8 a.m. | Continental breakfast & roundtable discussions
8:30 - 9:30 a.m. | Someone Injured in your Municipality - What Now?
This session will offer practical tips on how to reduce both the cost and extent of litigation through simple and proactive approaches to being informed of potential litigation either through staff notification or formal notice of claim. In addition, it will provide an in-depth overview of CGIA liability and immunity analysis as well, focusing on both how the current state of the law can guide advice for future municipal projects and adverse events.
Speaker:
Alex Dorotik, Deputy City Attorney, City of Lakewood


9:30 - 10:30 a.m. | Harassment: A New Era in Colorado
This year the state legislature made a notable amendment to Colorado law governing harassment claims. This session will focus on Colorado's take on harassment and how to navigate it. In doing so, we will discuss the amendment to Colorado law, the legal and practical implications of it, as well as the concomitant federal law and the relevant CCRD and EEOC administrative processes.
Speakers:
Marni Nathan Kloster, Partner, Nathan Dumm & Mayer P.C.
Ashley Hernandez-Schlagel, Partner, Nathan Dumm & Mayer P.C.
10:30 - 10:45 a.m. | Break
10:45 a.m. - noon | When Things Go South: Navigating Client Conflict as a Municipal Attorney
When conditions of local government take an unexpected turn, the municipal attorney can be front and center of a public controversy. Whether earned or not, the municipal attorney—who is often forward facing and a regular presenter at open meetings—can be publicly maligned for policy, decision-making, and rejected legal advice. When that happens, a municipal attorney may see their name published in social media or the newspaper, along with allegations from the public or elected/appointed officials. This ethics presentation describes applicable ethics rules regarding public-entity client conflict and provides advice and best practice tips on navigating various fact scenarios.
Speakers:
Tamara Niles, City Attorney, City of Englewood
Wynetta Massey, City Attorney, City of Colorado Springs
Kathryn Sellars, Of Counsel, Hoffman Parker Wilson & Carberry P.C.
Noon | Seminar adjourns