2024 Annual Conference

Our 2024 conference planning underway!
CML is currently accepting proposals for the 2024 CML Annual Conference, June 18 - 22, 2024 in Loveland Colorado.
Our annual conference draws over 1,200 leaders throughout the state to share the latest information on accomplishments, growth, legislation, and policies that impact your municipality.
Complete this form and submit your session idea and information by November 3, 2023. CML will notify individuals whose proposals are selected mid-to-late December.
Please contact Karen Rosen, CML meeting & events planner at krosen@cml.org if you have any questions or need additional information.


Revisit your favorite sessions from the 2023 CML Annual Conference

Presentation materials are available if you would like to review or download.

View the 2023 Conference Program.

Sponsor Appreciation

Thank you once again to all our 2023 sponsors! We look forward to seeing you again in 2024.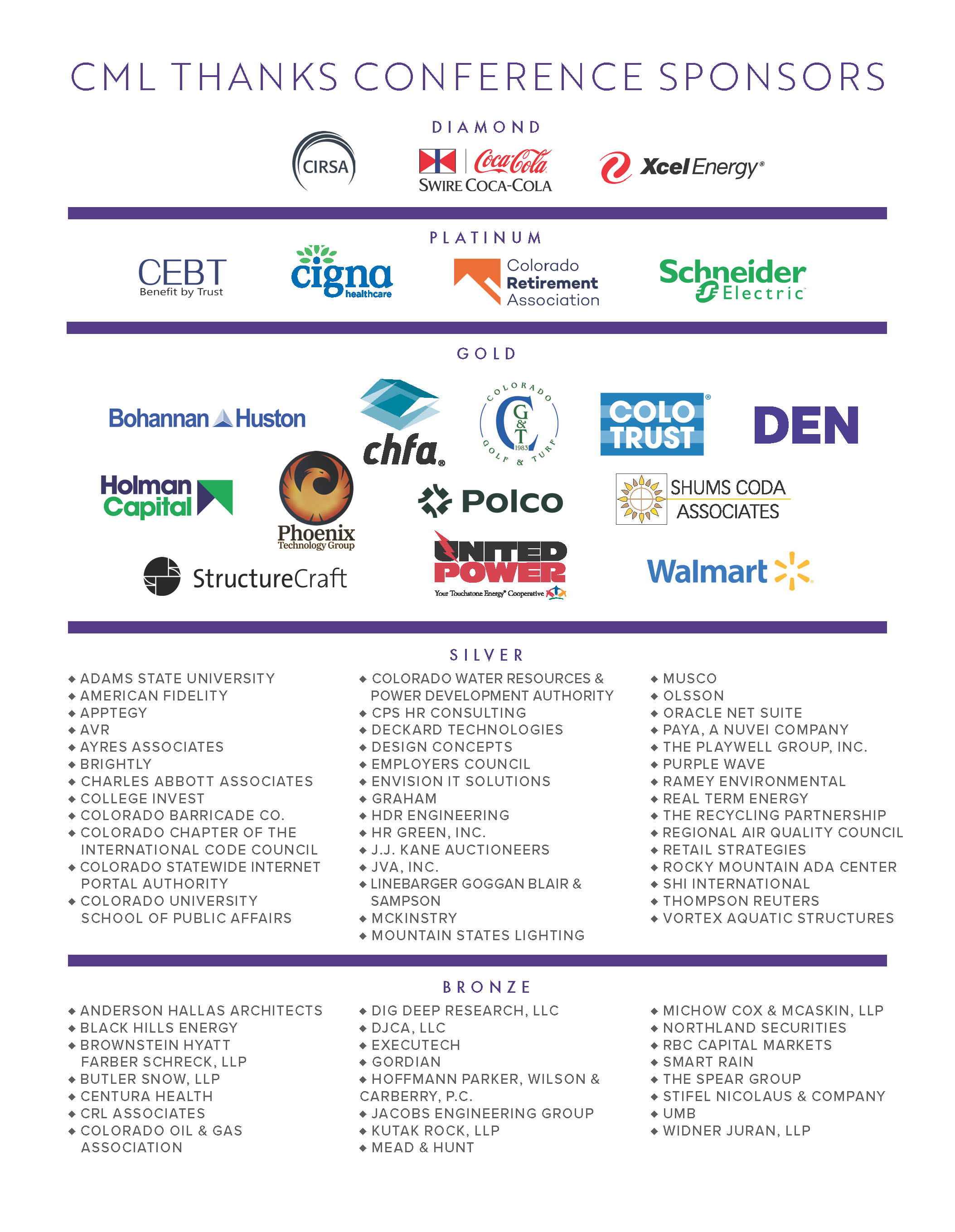 Mayor Jackie Marsh and Mayor Pro Tem Don Overcash
invite you to CML's 102nd Conference in Loveland in 2024
Congratulations

Please take a moment to celebrate and congratulate those recognized for their achievements at the 101st Annual Conference at the Gaylord Rockies in Aurora:

The 2023 Sam Mamet Good Governance award recipients

Arvada Mayor Marc Williams
Lyons Town Administrator Victoria Simonsen


The 2023 Legislative Hero award honorees

Senator Barbara Kirkmeyer, R-Brighton
Senator Rachel Zenzinger, D-Arvada


The 2023 MUNIversity award recipients
2023 Conference Photos
Coming Soon...2023 Annual Conference photo book
Future Annual Conference Dates and Locations
Mark your calendar. We're looking forward to seeing you once more at CML's 2024 Annual Conference!
June 18-21, 2024 – Loveland