State of Our Cities & Towns
2020 State of Our Cities & Towns: Employment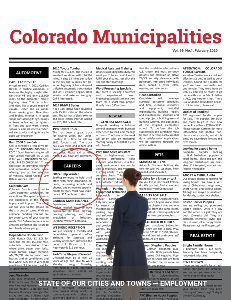 The 2020 version of CML's State of Our Cities & Towns Report examines the current state of municipal human resources and the challenges facing municipal employers in recruiting and retaining qualified employees, as well as the innovative solutions municipalities are trying in response. Read the full report or view the February edition of Colorado Municipalities for more in-depth articles about the report findings.
This report, based on data from a survey conducted in the fall of 2019 of cities and towns statewide, reveals several common themes in the 157 municipalities that responded (response rate of 58%).
Recruitment challenges
53% of respondents reported high cost of living, including cost of housing, as a major challenge to filling full-time positions, and in larger municipalities, that number was 76%.
Similarly, 52% of respondents reported difficulty offering competitive wages, with the competition coming from both the private sector and other government agencies.
Almost half of smaller municipalities and almost half of municipalities in the Western Slope/Mountains and the Eastern Plains regions also reported that attracting workforce to their communities was another major challenge.
The most difficult departments in which to fill positions are police, fire, and public safety (41% stated very difficult, 25% somewhat difficult) and public works (29% very difficult, 50% somewhat difficult).
Other difficult-to-fill departments include planning and development, finance and accounting, and the city or town clerk's office.
Retention challenges
Staff retention is a challenge when it comes to both full-time staff (81%) and part-time staff (74%).
The most common reasons cited when employees leave municipalities are low wages (reported by 53% of respondents) and a lack of advancement (45%).
75% of respondents reported that professional development was difficult to provide.
81% reported difficulty completing succession planning.
How municipalities are responding
In addition to increasing wages, the common themes appearing in responses related to addressing these recruitment and retention challenges include:
A focus on work-life balance through flex schedules or telecommuting.
Positive organizational culture.
Compensation studies at regular intervals.
Vigilance in understanding the benefits market to find the best value.
Education of staff about the value of available benefits.
Smooth interviewing and on-boarding processes.