State of Our Cities & Towns
2021 State of Our Cities & Towns: COVID-19
The 2021 edition of CML's State of Our Cities & Towns Report examines the operational and fiscal impacts of COVID-19. The 2021 report, which is based on results of a survey conducted in the fall of 2020 of cities and towns statewide, is being released as an interactive online data story (below) to provide a more visual narrative and encourage a deeper understanding of the municipal experience of the COVID-19 pandemic. Findings from the 173 municipalities that responded show that while the impacts of COVID-19 on operations, revenue, and local economies are as varied as the municipalities that responded, Colorado municipal officials' commitment to serving their communities is universal.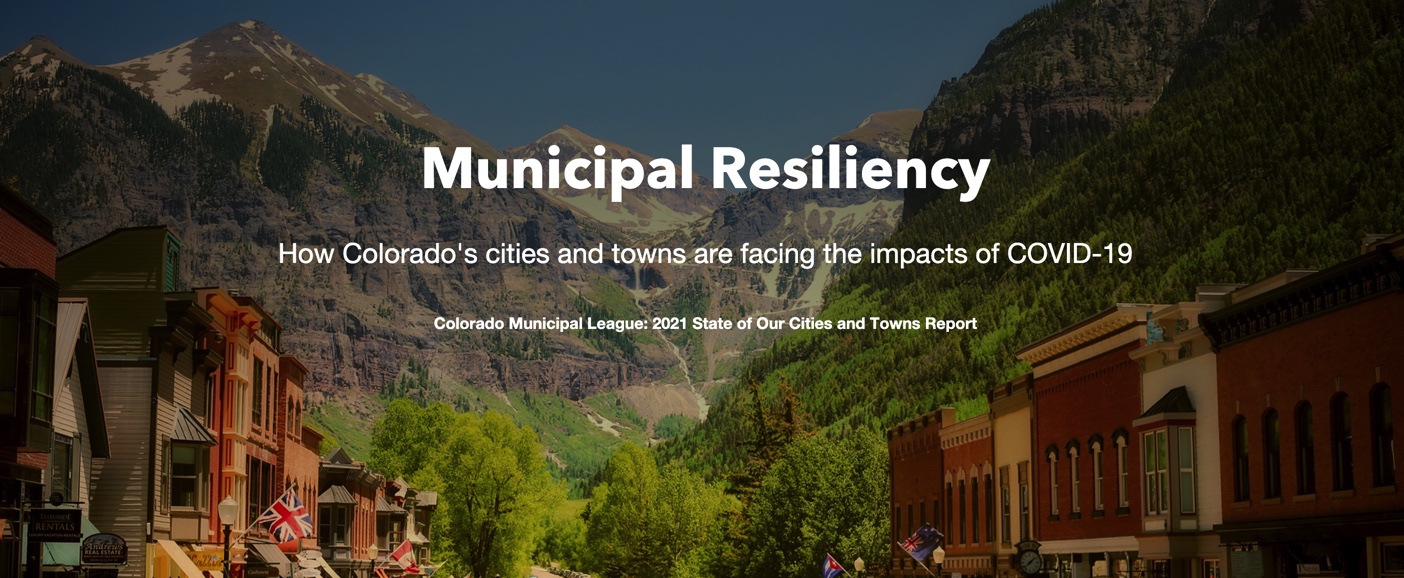 Key findings of the survey include:
Economic data:
51% of respondents report worse overall economic health and 46% report lower revenues in 2020 as compared to 2019. 16% report better overall economic health, and 27% report increased revenues.
41% of municipalities cut their general fund to balance their budget, including 7% who predict these cuts will be permanent.
71% of respondents report a negative fiscal impact to their utility due to postponing utility fees and shutoffs.
89% of respondents either have recovered or expect to fiscally recover within 24 months, 22% of large municipalities expect to take up to five years and 7% of small towns expect to never completely recover.
Municipal workforce impacts:

9% of responding municipalities furloughed full-time employees.
6% laid off full-time employees.
13% reduced hours of full-time employees.
34% have postponed filling vacancies for full-time positions, including 8% that have not filled 10 or more positions.
10% eliminated positions.
23% have frozen salaries.
Municipal response to community needs:

48% of municipalities offered direct financial assistance to businesses.
69% deferred payment of bills or fines.
16% expanded internet access or provided internet hot spots.
21% increased services to people experiencing or at risk of experiencing homelessness, including providing food, rent or mortgage support, hygiene stations, and hotel vouchers.