Policy Statement

CML's Policy Statement guides the CML Executive Board, Policy Committee, and advocacy team during the legislative session.
Laws Enacted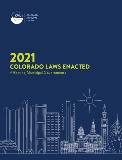 2021 Colorado Laws Enacted Affecting Municipal Governments is now available. Past editions are available here.
Position Papers
CML produces position papers on bills throughout the legislative session. Click here to view.
Colorado Supreme Court Affirms Municipal Authority to Regulate Firearms

July 7, 2020

In late June, the Colorado Supreme Court in Rocky Mountain Gun Owners v. Polis, 18SC817 (Colo. 2020), unanimously upheld a 2013 state statute that prohibits large-capacity ammunition magazines, defined as more than 15 rounds, typically associated with semi-automatic weapons. C.R.S. § 18-12-301 et seq. The Court held that this law does not violate the right to bear arms found under Art. II, Sec. 13 of the Colorado Constitution because the state general assembly used a reasonable exercise of police power in enacting the statute.

The decision is important for municipalities because the Court affirmed and clarified the standards that apply in a lawsuit over a local or state firearms law. The Court clarified that right to bear arms is not an unlimited right and is subject to reasonable regulation. The standard in Colorado that a court uses to see whether the law should be upheld is called "reasonable exercise test" and originates from Robertson v. City & County of Denver, 874 P.2d 325 (Colo. 1994).
Aurora to Appeal Decision Permitting Plaintiffs to File 106 Appeals Late for "Excusable Neglect"

June 8, 2021

In Walker Commercial, Inc. v. Brown, the Colorado court of appeals decided that an appeal of a quasi-judicial decision may not need to be brought within the deadline specified in C.R.C.P. 106(b), but instead can be accepted late on the basis of excusable neglect. In this case, Walker Commercial appealed the decision of the Aurora water director to uphold a storm drain development fee. Walker filed its appeal 30 days after the final decision because the Aurora municipal code provides that decisions of the manager are not effective until 30 days after the decision. Under the C.R.C.P. 106(b), an appeal of a quasi-judicial decision must be brought within 28 days. The Colorado court of appeals, in a matter of first impression and contrary to the rigid 28 day rule, opined that a plaintiff can seek relief from the deadline on the basis of excusable neglect under C.R.C.P. Rule 6(b).

CML filed an amicus brief in this case in support of the City of Aurora and the interest of municipalities statewide. Aurora will be appealing the decision to the Colorado Supreme Court.
2019 Laws Enacted is Available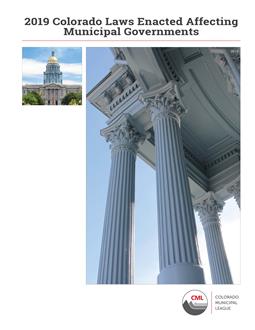 Each year, CML analyzes the laws passed by the Colorado General Assembly that affect cities and towns, and compiles that information into the publication, Colorado Laws Enacted Affecting Municipalities. The 2019 edition is now available; previous years also are available for free online.
Learn More