Digital motion pictures subject to municipal use taxes in Aurora case

January 6, 2020

On two prior occasions, the Colorado Court of Appeals has affirmed that motion picture film reels obtained by commercial movie theaters are subject to municipal use taxes. Now that the technology has changed and most theaters have switched to digital projection, the result is the same. The data file on the hard drive leased to the movie theater remains tangible personal property subject to use taxes, so said the court of appeals on January 2 in a case arising out of the City of Aurora. As in the earlier cases, the court went on to hold that the rental of the digital files by the theaters cannot be viewed as a purchase for resale, nor are the digital files viewed as part of a manufacturing process. Finally, there is no "double-taxation" problem when patrons are charged a sales or admission tax to view the movie. The use tax on the value of the data files is paid by the business. The admissions tax on the privilege of viewing the movie is paid by the customers.
U.S. Supreme Court Rejects Petition to Overturn Tenth Circuit Adoption of Repeated Violations Doctrine in ADA Claims

December 12, 2019

Earlier this year, the Tenth Circuit implemented the repeated violation doctrine with respect to violations of Title II of the Americans with Disabilities Act (ADA) in a case involving a dispute with a resident of Trinidad over the city's sidewalk system. The resident identified numerous city sidewalks and curb cuts that allegedly violated the ADA and presented these to city council; but then the citizen waited for over two years before suing in federal court. The Tenth Circuit held that each day there is a violation of Title II of the ADA is a repeated violation, which prevents the statute of limitations from running until the violation no longer exists. The U.S. Supreme Court denied cert on December 9, 2019, and the case is headed back to District Court on the merits. A fundamental question remains lingering on remand that makes this a case worth watching: Is a municipal sidewalk system a type of "program, service or activity" that is even covered by Title II?
2019 Laws Enacted is Available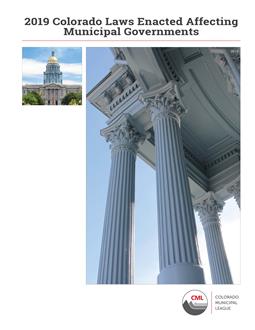 Each year, CML analyzes the laws passed by the Colorado General Assembly that affect cities and towns, and compiles that information into the publication, Colorado Laws Enacted Affecting Municipalities. The 2019 edition is now available; previous years also are available for free online.
Learn More