SOS Business Licensing and Registration Fees Survive TABOR Challenge

October 17, 2019

TABOR sometimes challenges municipal attorneys to define the difference between a "tax" and a "fee" and explain when the adoption or increase of either may require voter approval. A decision rendered by the Colorado Supreme Court on September 23, 2019 sheds new light on changes to fee regimes that actually pre-date the adoption of TABOR.
High Court Rejects Doctors' Latest Bid to Thwart Investigation of Medical Marijuana Recommendations

November 18, 2019

Earlier this month, the Colorado Supreme Court blocked an attempt to expand the Open Meetings Law (OML) to include meetings of two or more persons in the staff of a public agency. A group of doctors, who had been referred to the State Medical Board due to suspicious patterns of behavior in recommending medical marijuana, sued alleging the Colorado Department of Public Health and Environment (CDPHE) violated the Colorado Open Meetings Law (OML) by having staff create and enforce a policy for medical marijuana referrals. The doctors argued the definition of state public body within OML—which mirrors the definition of local public body—includes staff members when making internal agency policies. The Colorado Supreme Court disagreed with the doctors, articulating the "absurd result" of having all state agency staff—and potentially local government staff—follow the involved OML requirements for routine conversations. Surely, the legislature did not intend such a result.
2019 Laws Enacted is Available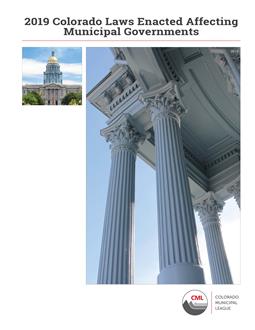 Each year, CML analyzes the laws passed by the Colorado General Assembly that affect cities and towns, and compiles that information into the publication, Colorado Laws Enacted Affecting Municipalities. The 2019 edition is now available; previous years also are available for free online.
Learn More