CML Newsletter
November 8, 2019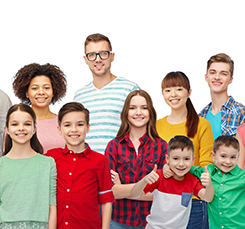 The Census 2020 count will begin in five months, and preparations are in full swing:

The Colorado Department of Local Affairs State Demography Office (SDO) has developed the Colorado 2020 Census Support Program to support local governments in the promotion of Census 2020. This $220,000 program will provide outreach and marketing support to help local governments and communities advertise Census 2020 by directly providing promotional support or services (banners, flyers, cups, pens, and other Census 2020 promotional materials). Local entities will be limited to requests
of up to $2,500.

The goal of the program is to produce community-specific materials, so be creative and create messages and materials that will resonate with your neighbors. Request forms are required and applicants can be reimbursed for purchases, or the program can pay vendors directly. Visit demography.dola.colorado.gov/census-acs/2020-CCSP for program guidelines or contact Adam Bickford (adam.bickford@state.co.us) or Justine May (justine.may@state.co.us) for assistance.

The Colorado Complete Count Campaign is hosting a social media training on Tuesday, Nov. 19, 10–11 a.m., at 1313 Sherman St., Room 220, Denver, or by webinar for remote attendance. The training will cover tactics and techniques of communicating the 2020 Census effectively on social media. If you are interested in attending (either in person or remotely), RSVP to mmata@cml.org.

The Census Bureau is looking to hire around 40,000 people in Colorado for the upcoming workload in 2020, ideally working in their own communities. Positions are full and part time, office and field. They are taking applications now (bit.ly/2WzCZXE) because it takes time to get security clearance.

The U.S. Postal Service has been working with the Census Bureau to identify those communities that do not receive regular mail delivery and that will be part of the Update Leave Program. A questionnaire packet will be dropped off at the housing units in these areas so residents can self-respond. For more information, visit bit.ly/2Nvakiq.
Check out the Census 2020 Questionnaire at bit.ly/2PEtIvS.

The Colorado Census 2020 Website (bit.ly/34mDR4G) provides access to marketing materials, information, tools, and resources to help individuals and communities understand the importance of Census 2020 and how to help communities make sure they are counted. For more information, contact the SDO at dlg.helpdesk@state.co.us.

Be sure to visit the SDO website (bit.ly/34ryNfr) if your community needs help with Census 2020 education and outreach activities.