FREE Webinar: Incorporating Land Use Practices into Water Efficiency Plans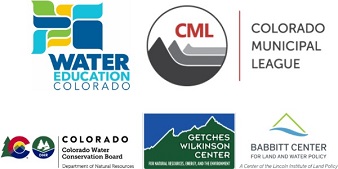 October 25, 2019 10:00 AM to 11:00 AM
Municipal Member Price: $0
Municipal Associate Member Price: $0
Non Member Price: $0
Register
Are you a municipal water provider, a consultant or someone in a position to write, guide or approve Water Efficiency Plans? Water Education Colorado and the Colorado Municipal League invite you to join us for a free webinar on October 25 from 10 a.m. - 11 a.m. This webinar will focus on opportunities, requirements, and new guidance for incorporating land use practices into Water Efficiency Plans. Those interested in learning more can attend follow-up workshops around the state.

With Speakers:
Kevin Reidy, State Water Conservation Specialist, Colorado Water Conservation Board
Anne Castle, Senior Fellow, Getches-Wilkinson Center for Natural Resources, Energy and the Environment at the University of Colorado-Boulder
Erin Rugland, Research Fellow, Babbitt Center for Land and Water Policy

A municipality will provide a case study from the field. Discussions will include how to overcome the challenge of working with different organizations to support water efficiency through land use.