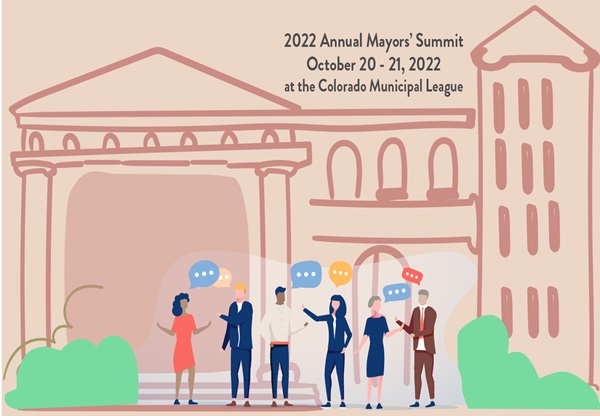 Mayors' Summit
CML's Mayors' Summit, presented by CML and CIRSA, brings Colorado mayors a training they will not want to miss! During this day-and-a-half-long summit, mayors from across the state will gather to discuss important municipal issues and examine important issues like water and affordable housing.
Click here to view a list of attendees.
Agenda and Presentation Materials

Thursday, October 20
1 p.m. | Registration open
2 p.m. | Welcome, Introductions, and Overview
Kevin Bommer, CML executive director, and Tami Tanoue, CIRSA executive director
2:30 p.m. | The Law of Civility
Sam Light, CIRSA general counsel
We've heard a lot about incivility in the public sphere, and as mayors, you've likely witnessed or experienced episodes of incivility now and then. From a legal perspective, what can be done about it? CIRSA general counsel Sam Light will provide an overview of legal issues relating to efforts to control incivility in meetings, the digital realm, and elsewhere. Highlights will include the risks public entities and officials can face in efforts to control incivility and "best practices" that can be used to get folks on board with your entity's commitment to civility.
Click here to view The Law of Civility presentation.
3:15 p.m. | Break
3:30 p.m. | Mayors Roundtable Discussion
4:30 p.m. | Welcome Reception
Friday, October 21
8 a.m. | Continental Breakfast
8:30 a.m. | Welcome
Michael Hancock, Denver mayor
9 a.m. | Leading with Shared Power
Linda Olson, Executive Director, Leadership Studies Program, University of Denver, and former Englewood mayor
View the presentation here.
10 a.m. | Break
10:15 a.m. | Creative Strategies for Workforce/Affordable Housing
Brian Rossbert, Housing Colorado executive director; Andrew Paredes, Director of Housing Finance and Sustainability, Colorado Department of Local Affairs (DOLA) Division of Housing (DOH)
Join this group of public and private leaders to learn more about developing creative solutions to workforce and affordable housing challenges in your community.
View the DOH presentation here.
View the Housing Colorado presentation here.
11:30 a.m. | Networking Lunch
Take this opportunity to sit down with your fellow mayors and learn more about challenges and triumphs happening throughout the state.
1 p.m. | Effective Meetings
Robert Sheesley, CML general counsel
Running a meeting isn't easy. Learn the fundamentals of efficient and successful local governments meetings and explore the common challenges that board chairs often face.
Click here to view the Effective Meetings presentation.
1:45 p.m. | Case Studies of the Appointee Evaluation Process
Heather Geyer, Northglenn city manager; Meredith Leighty, Northglenn mayor; Shane Hale, Windsor town manager; Paul Rennemeyer, Windsor mayor
Elected officials in Northglenn and Windsor will present their processes to conduct annual performance evaluations with their appointees. These processes are deliberative, require simultaneous input, create a learning experience, and help elected officials decide what is important. Appointees will share how these processes improve communication and provide invaluable feedback.
Click here to view the presentation.
2:30 p.m. | Break
3 p.m. | Team Building within the Council/Board
Dana Sherman, Brush mayor; John Suthers, Colorado Springs mayor; and Laura Weinberg, Golden mayor
A panel of mayors from municipalities of various sizes throughout the state will discuss effective techniques that have created high-functioning, team-oriented councils, and boards.
Click here to view the Takeaways slide.
4 p.m. | Building a Resilient Water Future
Russ Sands, CWCB water supply planning section chief
Water is crucial in Colorado. Learn about the Colorado Water Plan and the future of water in Colorado.
Click here to view the presentation.
4:45 p.m. | Summit Wrap Up