Stay tuned for 2023 bill lists
CML boxscore of support and oppose bills
CML-followed house bills
CML-followed senate bills
Last Updated : May 2, 2022
Bill : HB22-1007
Sponsors:
Representative Donald Valdez Democrat District 62
Representative Mike Lynch Republican District 49
Senator Pete Lee Democrat District 11
Senator Cleave Simpson Republican District 35
Status: S. Finance
CML Position: Support
Lobbyist: Heather Stauffer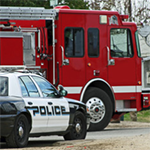 HB22-1007 establishes the Wildfire Mitigation Resources and Best Practices grant program in the Colorado State Forest Service. Grants can be awarded to applicants in order to conduct outreach to landowners to inform them of resources available for wildfire mitigation and best practices for wildfire mitigation in high wildfire hazard areas. Municipalities are eligible to receive these grants to provide these services.

The bill also repeals the existing income tax deduction to offset landowner's costs and replaces it with another state income tax credit for landowner's costs related to wildfire.

Find out more