Stay tuned for 2023 bill lists
CML boxscore of support and oppose bills
CML-followed house bills
CML-followed senate bills
Last Updated : May 2, 2022
Bill : SB22-002
Sponsors:
Representative Perry Will Republican District 57
Senator Joann Ginal Democrat District 14
Senator Tammy Story Democrat District 16
Representative Lisa Cutter Democrat District 25
Status: H. Transportation & Local Government
CML Position: Support
Lobbyist: Heather Stauffer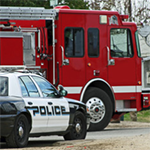 The Division of Fire Prevention and Control administers several cash funds dedicated to emergency wildfire suppression and response. These include the Governor's Emergency Fund, the Emergency Fire Fund, the Wildland Fire Cost Recovery Fund, and the Wildfire Emergency Response Fund. This bill makes local fire departments that are solely or primarily staffed by volunteers eligible for reimbursements for wildland fire suppression activities from those state cash funds if a wildland fire exceeds the capabilities of the fire department to control or extinguish. Funding can be used to reimburse volunteer firefighters for lost wages and out-of-pocket costs, or to provide financial incentives to retain and recruit volunteer firefighters. Additionally, the bill directs the department of Public Safety to prioritize funding in the Local Firefighter Safety and Disease Prevention Fund for governing bodies and volunteer fire departments that have lost tax revenues as a result of decreased assessment values due to a wildland fire within their jurisdiction in the previous 5 years. For departments that rely solely or primarily on volunteer firefighters and serve communities affected by wildland fires; or demonstrate the greatest need for additional funding to ensure the safety of volunteer and seasonal firefighters. The division is also authorized to directly purchase distribute equipment and pay for training for governing bodies and volunteer fire departments without requiring a grant application.

In addition, money in the Local Firefighter Safety and Disease Prevention Fund may be used to reimburse a multiple employer behavioral health trust for the direct costs of providing a behavioral health care to firefighters. Municipal fire departments have to participate in the trust, but it is funded by the state.

Many municipalities rely heavily on the use of volunteer firefighters. By providing access to these resources' municipalities can better incentivize these volunteer positions and also offer needed behavioral and mental health services for volunteer firefighters.

Find out more