Last Updated : February 7, 2020
Bill : HB 20-1044
Sponsors:
Representative Alec Garnett Democrat District 2
Representative Shannon Bird Democrat District 35
Senator Leroy Garcia Democrat District 3
Senator Joann Ginal Democrat District 14
Status: Before Governor
CML Position: Oppose unless amended
Lobbyist: Meghan Dollar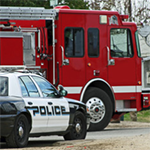 The General Assembly's interim Pension Reform Commission approved a single piece of legislation that would contain five items requested by a majority of the Fire and Police Pension Association Board. There are three elements to the proposed legislation critical to municipal interests. First, the proposal would increase funding of the Statewide Death and Disability Plan in order to return to 100% funded status by allowing annual contribution increases up to 0.2% that may be split by the employer with employees. Second, the proposal would increase employer contribution rate to the Statewide Defined Benefit Plan (SWDB) by 0.5% over 8 years and allow the FPPA Board to require future increases without legislative approval. Finally, the proposal includes an early retirement benefits enhancement allowing pension plan members to retire at 50 with 30 years of service, and the 1% contribution increase to pay for the benefit to come solely from employers.Though CML sought compromise, that ultimately did not happen. The bill passed the legislation last week with no changes to the employer contribution. CML will be asking for a veto of HB 20-1044.
Find out more