Last Updated : June 14, 2021
Bill : SB21-176
Sponsors:
Senator Brittany Pettersen Democrat District 22
Senator Faith Winter Democrat District 24
Representative Susan Lontine Democrat District 1
Representative Matt Gray Democrat District 33
Status: Postponed indefinitely
CML Position: Oppose
Lobbyist: Meghan Dollar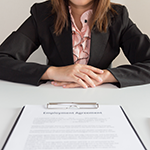 SB 21-176 makes several changes to Colorado's anti-discrimination statute. First, it expands the law to apply to independent contractors. It also allows for a local government employee to circumvent the Colorado Civil Rights Division (CCRD), and go directly to court which opens up municipalities to additional liability. The bill also extends "unfair employment practices" to include failing to conduct a reasonable investigation or fail to take prompt remedial action in response to a complaint of harassment/ discrimination/ retaliation.
SB 21-176 provides an employer an opportunity to avoid liability when a supervisor has unlawfully harassed an employee if the employer has a program that has "documented" success in preventing harassment and punishing supervisors, made the program known to everyone in the company, no employee has filed a complaint within the prior SIX years for retaliation, and the employee has failed to take advantage of the program. Finally, the bill creates a broad definition of hostile work environment to include anything that "undermines a person's sense of well-being." This could be applied to many situations and does not provide an objective standard for a municipality to defend against. Under federal law, to be unlawful, the conduct must create a work environment that would be intimidating, hostile, or offensive to reasonable people and to the individual.
CML is opposed to this legislation because of the creation of new liability for local governments and the expanded application to independent contractors. We also have concerns that the language goes far beyond Title VII in Federal law by including language that an individual would not have to show that an act is "severe or pervasive" to be considered unlawful. CML is joining a broad coalition of public and private sector employers in opposition.

The bill was heard in the Senate Judiciary Committee on April 1. CML testified to our concerns regarding the inclusion of independent contractors as well as the still vague and open definition of "hostile work environment." The bill was amended to add back in the CCRD as the first step to filing a complaint rather than going directly to court. Though that amendment was adopted, CML remains opposed. The bill was amended and then laid over for further action.

Update: The bill was amended with a strike-below amendment meaning that the entire bill was rewritten. Many of CML's concerns have been addressed although there are still outstanding concerns regarding any coverage of independent contractors and the definition of hostile work environment.
Though the bill saw several changes through the legislative process, CML did not remove opposition. The bill was ultimately postponed indefinitely in the House Judiciary Committee.
Find out more