Last Updated : June 14, 2021
Bill : SB21-197
Sponsors:
Representative Steven Woodrow Democrat District 6
Senator Robert Rodriguez Democrat District 32
Status: Postponed indefinitely
CML Position: Oppose unless amended
Lobbyist: Meghan Dollar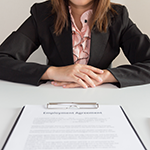 Under current law, when a worker is injured on the job, the worker's employer or worker's compensation insurer is required to provide a list of designated providers from which the injured worker may select a physician or corporate medical provider for treatment. SB21-197 bill allows the injured worker to choose their treating physician from any level I or level II accredited physician from the Physician's Accreditation Program in the Division of Workers' Compensation in the Department of Labor and Employment. If an injured worker is unable or unwilling to select the treating physician, the employer or insurer is required to choose the physician. There are several concerns with this legislation. First, it undoes significant negotiations that took place within the last five years. Second, it lowers the threshold of the type of qualifications a doctor must have. Third, it allows an individual to keep changing doctors up until they can go back to work. Finally, the bill will increase workers' compensation costs for all employers. The CML Policy Committee voted to oppose this legislation unless the bill is amended to prevent doctor shopping up until an employee returns to work and that they need to use level 1 physicians. On third reading in the Senate an amendment was added that clearly allows an employee to doctor shop up until they return to work. The bill is still highly problematic. The bill was heard in House Business Affairs and Labor last week. Knowing that the votes were not there to pass the bill, the sponsors opted to postpone the bill indefinitely.

Find out more